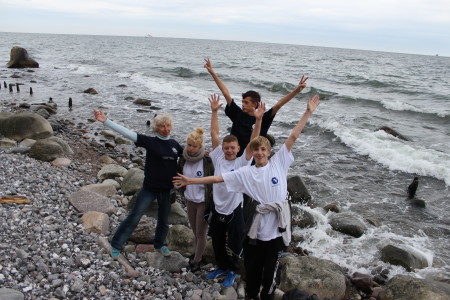 Published 22.10.2015 // 19:57 CET
On 10 – 18.09.2015 group of young people from the Sociotherapy Youth Centre from Zgorzelec took part in a cruise by sailing ship STS Fryderyk Chopin. The cruise took place on the route from Larvik (Norway)  to Szczecin (Poland).
During the cruise youth carried out a program "Blue School Project" as well as the program initiative of the Ministry of Health "Stop smart drugs".
Sociotherapy Center from Zgorzelec takes care of about 70 pupils who for various reasons can not grow up in family homes.
The Centre is trying to change the attitude of these young people to the world around them, so that in future they can live in our society, and not on its margins.
We are pleased to announce that the company NV Service AS has been sponsor of the expedition of these young people.
We wish the whole group achieving the goals and we hope that this journey will change their lives for better!
= = = = = = = = = = = = = = = = = = = = = = = = = = = = = = = = = = = = = = = = = = = = =
W dniach 10 – 18.09.2015 grupa młodzieży z Młodzieżowego Ośrodka Socjoterapii ze Zgorzelca wzięła udział w rejsie żaglowcem STS Fryderyk Chopin. Rejs odbył sie na trasie Larvik (Norwegia) – Szczecin.
W czasie rejsu młodzież realizowała program "Niebieskiej Szkoły Pod Żaglami" jak również program z inicjatywy Ministerstwa Zdrowia pt. "Stop dopalaczom".
Ośrodek Socjoterapii ze Zgorzelca obejmuje opieką około 70 wychowanków, którzy z różnych przyczyn nie moga dorastać w rodzinnych domach.
Zadaniem Ośrodka jest zmienić postawę tych młodych ludzi do obowiązków, do otaczającego ich  świata tak, aby w przyszłości mogli żyć w naszym społeczeństwie, a nie na jego marginesie.
Mamy przyjemość poinformować, że firma NV Service AS została sponsorem wyprawy tych młodych ludzi finansując transfer lotniczy na trasie Wrocław – Oslo oraz transfer kolejowy na trasie  Oslo – Larvik.
Życzymy całej grupie wytrwałości w dążeniu do wybranych celów i mamy nadzieję, że podróż ta zmieni ich życie na lepsze!