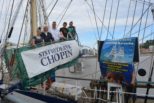 Published 18.10.2016 // 8:58 CET
We would like to present you some short photo relation from STS Chopin cruise which took place 17.06.2016 – 01.07.2016 from Szczecin (Poland) to Stavanger (Norway).
NV Service AS was a travel sponsor of youth from the Socioteraphy Youth Center from Zgorzelec (http://mos-korczak-zgorzelec.pl/index.html)).
These youngsters took a part in a program "Blue School Project" and they had a great opportunity to see different part of life, different ways to spend time, discovered new hobby.